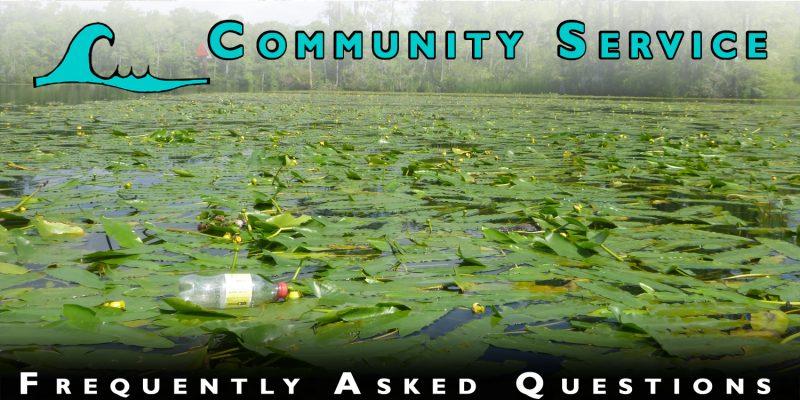 Our Free Community Service Program is open for Local Youth to sign up throughout the year. "Youth" means individuals 17 years of age and younger.
This program allows local youth to complete documented Community Service hours in 2 hour increments. The hours are earned by assisting the Carolina Waterman Founders/Directors in the collection of litter from Public Water Access Points and along the Public Waters of South Carolina.
*Local Adults in need of Court Ordered community service hours will be considered for this program on a case by case basis and largely based on our availability.
When:
This program is currently conducted by request only. If you are a local youth, or the parent of a local youth, seeking qualifying community service hours, please contact us to schedule a Community Service event.
Where:
Our Community Service program is conducted at the Peachtree Landing Public Water Access Point. This location is frequently in need of litter cleanup as it is a known illegal dumping site.
This program typically lasts 2 hours and will be documented as 2 hours of completed service hours.
The Founders of the Carolina Waterman, Trent & Meghan, are also the Community Service Program Directors! Both individuals will be present for the duration of this programs scheduled activities.
"We are passionately committed to connecting people with our local waters. That means teaching them to respect, protect, and enjoy the waters. Helping people understand the value of personal experiences on our public waters, and the important role those public waters directly play in the health of our community and it's residents." ~ Trent & Meghan
Providing local youth with supervised opportunities to complete documented community service hours while helping collect litter from on and around our Public Waters directly impacts the lives of those individuals as well as our community as a whole. This program helps kids learn that community service isn't a punishment, but rather a healthy and beneficial part of any persons life. We instill this concept by taking the kids paddleboarding along the Waccamaw River in search of litter commonly found caught in the Waccamaws tidal currents. This shows them the direct impact of littering as well as the direct impact of picking up litter.
The simple answer...we need the advanced notice.
Whether you need hours to appease a Judge or a College admissions office...or both, part of your responsibility is planning.
This is a free program, but that doesn't mean there aren't costs incurred by conducting this program. Please be considerate and please be punctual!
We know we need at least 2 weeks to coordinate the schedule. If you are interested in fulfilling some community service hours picking up litter with the Carolina Waterman, then please contact us below!