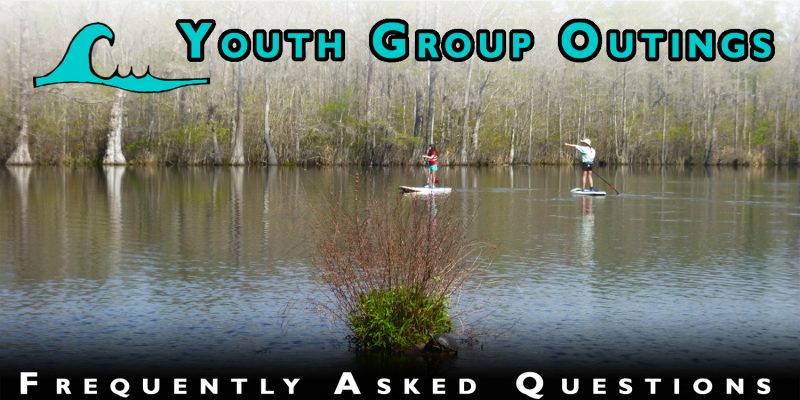 Boy Scouts, Girl Scouts, Boys & Girls Clubs, Church Groups, Sports Teams, Etc.
This experience is meant to connect organized groups* of kids (17 years old & under) with our public waters. We provide a paddleboarding experience along the Waccamaw River Blue Trail which winds through the Waccamaw National Wildlife Refuge.
If you manage an organized group of kids and you would like them to experience a nature filled, non-motorized boaters education course, then this is the activity for you.
*Group Sizes: 18 Total Participants (Chaperone:Kids | 1:5, 2:10, 3:15)
**Fees are nominal ($10/each) and intended to offset the actual cost of conducting this program.
When: Call to Book
This program is conducted by request only (with 2 weeks notice). If you are the individual responsible for an organized group of kids and you are interested in scheduling a Youth Group Outing, then please follow the button below to contact us. With enough notice we are able to schedule an event for your group at a time that is most convenient.
Where: Paddleboard Location | Surf Location
If you have a location that connects to a body of water, then we can schedule an event at your location. Otherwise we conduct Surf Lessons at Springmaid Beach, utilizing the Nash St. Public Water Access Point; and we conduct Paddleboard Lessons on the Waccamaw River utilizing the Peachtree Landing Public Water Access Point.
Typically from 2-3 Hours. This depends largely on which activity we are doing, where we are going, and the number of participants involved.
Outings with 6 Participants or Less typically lasts around 2 hours.
Outings with 7 - 18 Participants typically lasts around 3 hours.
The Founders of the Carolina Waterman, Trent & Meghan, are also the Youth Group Outing Instructors!
Trent & Meghan are First Aid/CPR Certified with the American Red Cross and have over 2000 hours of combined Instructor experience on our local public waters.
"We are passionately committed to connecting people with our local waters. That means teaching them to respect, protect, and enjoy the waters. We're helping people understand the value of personal experiences on our public waters, and the important role those public waters directly play in the health of our community and it's residents." ~ Trent & Meghan
Youth Group Outings connect young people with the Public Waters of South Carolina in a safe and responsible way. We adhere to the rules and regulations governing the Public Waters. Educating the youth about safety is a primary focus in our Youth Group Outings. We are a licensed and insured 501(c)(3) organization.
The program fees paid for Youth Group Outings are intended to cover the actual costs of conducting this program. Any excess funds generated through program fees directly supports a variety of free programs designed to connect our local youth with their local waters. Many of those youth would not otherwise have opportunities to experience their local public waters.
Because we are currently operating with 100% volunteer staff, and we are trying to focus on building the availability of our free programs, we are requiring at least 2 weeks advance scheduling in order to participate in this program.
A lot goes in to coordinating an event with a group of young people. We ask group leaders to be scheduled with at least 2 weeks notice in order to guarantee the best experience possible for your group.