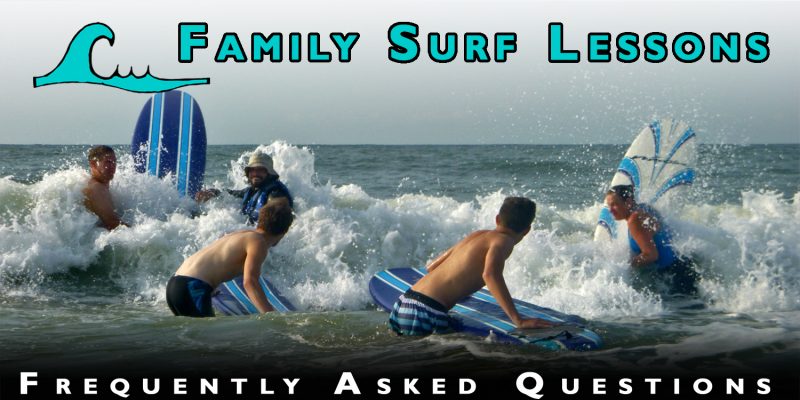 Our Family Surf Lessons are fun and supervised surfing experiences in Myrtle Beach, South Carolina. They last right around 2 hours and are built to teach families all about our beach, surfing, safety, wildlife, and more!
Things to know:
This is a family minded organization - Dress Codes Apply
This activity exposes you to direct Sunlight - Dress Codes Apply
This is a physical activity and can include some gnarly wipeouts - Dress Codes Apply
All participants must complete liability waivers, dress appropriately, and be prepared to have a blast at the beach with the Carolina Waterman.
When: Click HERE for Calendar
Our Family Surf Lessons are able to be scheduled on Thursday Mornings.  Family Surf Lessons MUST be scheduled at least 48 Hours in advance. We do not have the availability to accommodate last minute needs, availability is First Come/First Serve. So Pre-Book your Family Surf Lesson Today!
Where: Click HERE for Location
Our Surf Lessons are conducted on the Public Waters of South Carolina. As a nonprofit organization, we do no have the budget to lease/own waterfront property. We rely solely on the availability of designated Public Water Access Points in order to access the public waters.
We park at the Nash St. Public Beach Access which is located directly between the DoubleTree hotel and the Myrtle Beach State Park. From there we walk to the public beach and stake a claim on a patch of sand.
Yes...and no.
The truth is, most of the people visiting Myrtle Beach, South Carolina with their children do not have the necessary experience in the water to provide their children with the proper attention to ensure their safety. Things can change very quickly in the Atlantic Ocean and having Instructors who are experienced can make a world of difference.
With the Carolina Waterman,
Yes...your family needs one of our Family Surf lessons,
and No...we do not offer surfboard rentals to the general public.
As a nonprofit organization focused on connecting people with water, our goal is to provide quality experiences over merely a quantity of experiences. By choosing the Carolina Waterman you are directly supporting the variety of completely free programs we offer for our local youth to experience their local waters.
The Founders of the Carolina Waterman, Trent & Meghan, are also the Family Surf Lesson Instructors!
Trent & Meghan are First Aid/CPR Certified with the American Red Cross and have over 2000 hours of combined Instructor experience on our local public waters.
"We are passionately committed to connecting people with our local waters. That means teaching them to respect, protect, and enjoy the waters. We're helping people understand the value of personal experiences on our public waters, and the important role those public waters directly play in the health of our community and it's residents." ~ Trent & Meghan
Family Surf Lessons connect resident and visitors to the waters of Atlantic Ocean in a safe and responsible way. We adhere to the rules and regulations governing the Public Waters. Safety is a primary focus in our Family Surf Lessons. We are a licensed and insured 501(c)(3) organization.
The program fee paid for Family Surf Lessons directly supports a variety of free programs designed to connect our local youth with their local waters. Many of those youth would not otherwise have opportunities to experience their local public waters.
Because we are currently operating with 100% volunteer staff, and we are trying to focus on building the availability of our free programs, we are limiting our Family Surf Lesson availability to only Thursday mornings.
You must sign up for this program at least 48 Hours in advance, this gives us the ability to adjust our schedule to allow for afternoon Paddleboard Lessons.