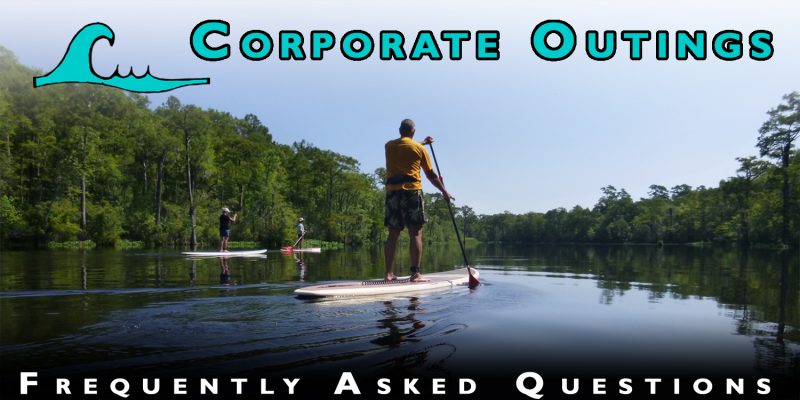 Businesses, LLC's, Corporations, Etc.
If you manage a group of people and you want them to work on team building...Corporate Outing.
If you have some clients you'd like to strengthen your relationship with...Corporate Outing.
This experience is meant to connect people in the corporate setting with our public waters. We offer Paddleboarding Outings for a more personal experience with plenty of time to chat while taking in the natural beauty of the Waccamaw River.
When: Call to Book
This program is conducted by request only. If you are the individual responsible for planning Corporate Outings, and you are interested in scheduling a Corporate Outing, then please follow the button below to contact us. With enough notice we are able to schedule an event for your group at a time that is most convenient.
Where: Click HERE for Location
If you have a location that connects to a body of water, then we can schedule an event at your location. We conduct Paddleboard Outings on the Waccamaw River utilizing the Peachtree Landing Public Water Access Point.
Due to the nature of the business world we reserve a 3 Hour block for Corporate Outings. We aim for a 2-3 Hour experience start to finish. This is typically the most time an individual can comfortably tolerate standing, balancing, and paddling a paddleboard.
The Founders of the Carolina Waterman, Trent & Meghan, are also the Corporate Outing Instructors!
Trent & Meghan are First Aid/CPR Certified with the American Red Cross and have over 2000 hours of combined Instructor experience on our local public waters.
"We are passionately committed to connecting people with our local waters. That means teaching them to respect, protect, and enjoy the waters. We're helping people understand the value of personal experiences on our public waters, and the important role those public waters directly play in the health of our community and it's residents." ~ Trent & Meghan
Corporate Outings connect our professional residents and visitors to the waters of Atlantic Ocean in a safe and responsible way. We adhere to the rules and regulations governing the Public Waters. Safety is a primary focus during our Corporate Outings, as well as educating people about boating, wildlife, and our local natural resources. We are a licensed and insured 501(c)(3) organization.
The program fee paid for Corporate Outings directly supports a variety of free programs designed to connect our local youth with their local waters. Many of those youth would not otherwise have opportunities to experience their local public waters.
Because we are currently operating with 100% volunteer staff, and we are trying to focus on building the availability of our free programs, we are requiring at least 1 week advance scheduling in order to participate in this program.
A lot goes in to coordinating an event with a group of professionals. We ask group leaders to be scheduled with at least 1 week notice in order to guarantee the best experience possible for your group.